Hexagon AB has completed the acquisition of FASys Industrie-EDV-Systeme GmbH, a German system integration specialist and provider of software and hardware solutions for production-oriented tasks.
Continuous 5-Axis milling of Dental prosthetics in hard and soft material. WorkNC Dental Xpert 5-Axis uses its implant module for the automatic milling of a full implant bridge in metal. The 5-Axis undercut toolpath automatically removes the undercut areas.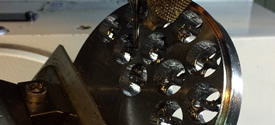 Osteophoenix SL is a newly established company in Spain whose mission is to create titanium dental implants for patients who have lost too much bone structure for traditional fixed implants. And the latest CAD/CAM technology from WorkNC is all set to play a vital role in the development of the manufacturing process.