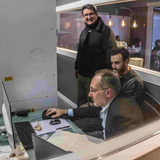 Perfit Partners with French Company WORKNC Dental from Vero Software
Perfit Dental Solutions has teamed up with CAD CAM software heavyweight WORKNC Dental, which is part of the Hexagon Group of software products.
As users of WORKNC Dental, Perfit was able to gain familiarity with the program first as users in its milling center in Kelowna, BC. After understanding the software, Perfit began to look at development opportunities to expand on current capabilities. After reviewing various CAM software options, Perfit teamed up with WORKNC Dental, a global leader in milling optimization with experience in several commercial industries under the Vero brand.
"We are proud to support leaders of the industry, such as Perfit Dental," said Global Manager Laurent Journeau of WORKNC Dental. "Perfit leads by example throughout North America. Their methods and ideas are simply light years ahead of the rest. We are proud to support Perfit and their future with WORKNC Dental."
Perfit is excited to be leading the way in digital dentistry and challenging the status quo and new, innovative solutions will be released in the coming months to further automate the production of bridges, dentures and dental implants.
As patient care providers, Perfit has a unique advantage with experience in both the patient care category and the dental lab. Recognizing a trend in immediate gratification products and mass customization, Perfit solutions were created to exceed standards in every category from the patient and lab perspective. People with missing teeth want high-quality solutions that look great, are light-weight, feel natural, healthy, long-lasting, and affordable. This presents quite the challenge, which is why Perfit enlisted the help of expert partners WORKNC Dental.
Historically, Perfit has seen a lot of solutions in crown and bridge, but have not seen the same progress with dentures, removables and larger dental implant cases.
"We're really excited to be working with such a great group. High-end CAM software is crucial for our workflow – it's really the brain of production. When you have like-minded individuals, amazing things just happen. Not only do we have a great professional relationship, we have come to consider them great friends," said Steve Cowburn, co-founder of Perfit Dental Solutions.
On a recent trip to Perfit Dental Solution's head office in Kelowna, BC, Journeau and WORKNC Dental Business Development Manager Ron Rosenthal attended the Perfit Academy of Digital Dentistry. During their visit, the companies were able to discuss future development and optimize Perfit's existing milling center, which features an Imes-Icore 650i.
Members of the Perfit Academy of Digital Dentistry shared knowledge about 3D scanning technologies advantages and limitations, CAD/CAM workflows, milling machines and marketing.
About Perfit Dental solutions
Perfit Dental Solutions is home of the world's first fully digital denture and continues to develop innovative solutions for removable veneers, dental implants, partial denture and complete dentures. Perfit is passionate about disrupting the dental industry and focuses on utilizing technology to deliver high quality, immediate gratification solutions that benefit both the patient and practitioner.
About Work NC Dental
Work NC Dental has direct offices in the UK, Germany, Italy, France, Japan, USA, Brazil, Netherlands, China, Korea, Spain and India supplying products to more than 45 countries. WORKNC Dental / Vero is part of the Hexagon (Nordic exchange: HEXA B) a leading global provider of design, measurement, visualization technologies that enable customers to design, measure and position objects and process and present that data. For more information, please visit
www.workncdental.com
.
About Vero Software
Headquartered in England, Vero Software designs, develops, and supplies CAD/CAM/CAE software radically enhancing the efficiency of design and manufacturing processes, providing its customers with exceptional value through high productivity gains and significantly reducing time to market.
The company's world-renowned brands include ALPHACAM, CABINET VISION, EDGECAM, Machining STRATEGIST, PEPS, RADAN, SMIRT, SURFCAM, WORKNC and VISI, along with the production control MRP system JAVELIN. Despite the diversity of application, these solutions have one thing in common: they all address the rising challenges of achieving manufacturing efficiencies and bring huge value to the operations in which they are deployed.
Vero has direct offices in the UK, Germany, Italy, France, Japan, USA, Brazil, Netherlands, China, South Korea, Spain and India supplying products to more than 45 countries through its wholly owned subsidiaries and reseller network.
Vero is part of Hexagon (Nordic exchange: HEXA B), a leading global provider of information technologies that drive quality and productivity across geospatial and industrial enterprise applications.
For more information, please visit
www.verosoftware.com
.