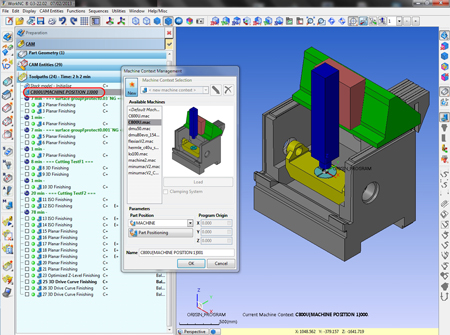 The newly released Version 22 of WORKNC to be demonstrated on Booth 6-Y79 at the INDUSTRIE Trade Fair in Lyon, France.
The latest Version 22 ofWORKNC, the easy to use, high performance 2 to 5-axis CAD/CAM solution for machining complex parts will be previewed at the Industrie Trade Fair in Lyon, from the 16th to 19th of April, 2013.
Version V22 of WORKNC sees the advent of new finishing toolpaths along with a host of improvements to existing toolpaths. Morphing and spiral transition options, along with improved toolpath point distribution management, all contribute to ensure optimal surface finish quality as well as reduced cycle times.
WORKNC V22 is also now capable of improving management of the production environment thanks to the creation of a Machine Context which groups together all the relevant machine configuration elements required by the different modules within WORKNC such as collision detection and management, automatic generation of transitions between toolpaths or assembled 3 or 5 axis toolpaths, Auto 5, etc... Several Machine Contexts can be used in the same Workzone.
Thanks to WORKNC V22, machining has never been easier! Four new toolpaths containing numerous options and trade oriented expertize have been developed for machining wall and flat surfaces on die parts. The new Tangent to Curve toolpath has shown to be the ideal solution for machining specific features on 2D parts by direct selection of vertical surfaces or by automatic wall detection following planar surface selection.
5-Axis strategies have been entirely revamped. Thanks to its new ergonomics and new programming possibilities, the 5-Axis module offers greater flexibility, simplicity of use and enhanced machining capabilities. Toolpath programming is now carried out in a single, centralized dialog box.
WORKNC will also be previewed with its new WORKNC Robot module, designed to control robots with a capacity of up to 15 axes. This new module offers important cost reductions when machining large parts. This is because toolpath programming is extremely rapid with WORKNC Robot and eliminates the time consuming learning cycles commonly associated with these machines. The dedicated simulation module allows immediate verification of robot kinematics by taking into account collision management. This new module can deploy the full range of WORKNC toolpaths for machining, hardening, welding and polishing operations. WORKNC Robot is compatible with any type of robot currently on the market.
Visitors will have the chance to see the WORKNC Robot module in action in the robotic cell set up on the booth. WORKNC's engineers will show just how easily a STAÜBLI TX90 robot, controlled by the WORKNC Robot module, can machine small blades for aeronautic applications.
A wide range of showcase parts machined with WORKNC will be on show on the booth. Among these parts, Mr. Indestructible, Iron Man and Spiderman along with an amazing new part specially made for the Industrie Trade Fair. Drop by and visit us on Stand 6-Y79.