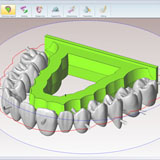 WORKNC Dental V3 - makes machining even more efficient
Once again, WORKNC Dental V3 further simplifies the preparation process for dental prosthesis machining and reduces manual operations thanks to its automated functions:
Automatic generation of sintering supports for large bridges: This new function ensures greater stability for prostheses during the sintering process.
Automatic support pin generation: This function automatically determines optimal positioning of support pins according to the material being used.
Automatic control of 5 axis machine kinematics: Ensures coherence between the project and the machining capacity of the machine before carrying out machining operations or calculations which can last several hours.
Automatic Batch mode calculations: Users are not hindered by calculations which are performed as a background task. In this way, operators can continue to prepare other projects.
WORKNC Dental V3 also benefits from advantages offered by WORKNC, for example, 64 bit and parallel calculation features which set new processing standards and ensure important gains in productivity. Calculation times can be as much as four times faster.
WORKNC Dental V3 is perfectly compatible with the leading Dental CAD systems on the market today such as Dental Wings®, 3Shape®, Exocad® and the direct interfaces used by these systems.
The WORKNC Dental Implantology module is a global innovation which allows users to produce all types of implant mounted prostheses such as bars, bridges, customized abutments and to have control over any implant system used within the laboratory while remaining totally independent of the dental CAD system. An Implant Connections library is available which contains more than 15 references which are compatible with the most popular implant systems. (Nobel®, Straumann®, Astra®, Zimmer®, Dentsply®)