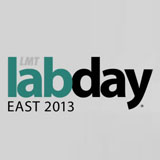 Latest release of WORKNC Dental advanced CAM software on display at LMT Lab Days East in New York, NY
LMT Lab Days shows represent the largest international gathering of the dental laboratory community in North America and WORKNC Dental will be present again this year on booth T2, as well as on the booths of partners, Datron Dynamics. This show is once again being held at the Grand Hyatt New York on April 6.
Visitors to the Sescoi booth can see the latest release of WORKNC Dental advanced CAM software for milling dental components, designed to help provide laboratories with the lowest costs to milling quality dental prostheses. Features such as multi-threading, parallel processing and batch processing enable fast calculations, while customized templates and part setups allow more parts per block/puck of material to be milled. WORKNC Dental CAM milling algorithms, the result of over 25 years of advanced milling research, ensure shorter run times on the milling machine.
Additionally, WORKNC Dental experts will be demonstrating the latest developments in the WORKNC Dental Implant Module, which enables advanced, efficient milling of all implantology components. This module enables the automatic detection of implant styles, which can also be directly read in from the dental scanner and CAD system. Due to the use of solid model topology as well as the scan technology, implants have the best fit and accuracy possible.
Dental practitioners wishing to produce their own custom abutments, implant bars and bridges, using a fully open solution, can learn about the full process from the WORKNC Dental team at the LMT Lab Days.